Come out, get involved, help others and feel good.
Volunteers are a vital part of Villa's day-to-day operations. You can choose to participate in any of the following ways:
Program volunteers: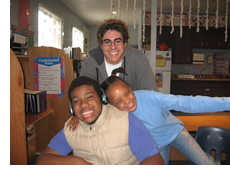 Experience what we do first-hand by volunteering to work in one of our programs where you can add joy and meaning to the lives of our special needs children, adults and seniors. Provide friendship while assisting children in the classrooms, or helping adults and seniors at our Adult Day Programs with arts, crafts, exercise, movement, music and other activities.
Beautify our campus: Good with a hammer, a saw, a brush, a shovel? We're looking for a few good people to help beautify our campus and our residential homes. If your company, organization or other group is looking for a job to do as a team, then come on down and paint our buildings, plant some trees and flowers…the possibilities are endless! Eagle Scout, Girl Scout Gold Award and senior projects are also welcome.
Volunteer in our offices: Good with numbers, answering phones, filing, or are you computer savvy? Put your skills to good use by helping out in our corporate offices in Pasadena and Thousand Oaks!
Assist with fundraisers:Villa hosts several fundraisers each year and volunteers are a tremendous asset in these projects. From decorating to selling tickets or getting sponsorships, volunteers are our major support. To see some of the events we are putting on in the near future, click here. To help with an event, please contact us.
Share your talents: Are you good at music? Do you like to dance? Do you have a special talent that you would like to teach? Share your skills and interests with our clients! It'll make you feel good.
Volunteer Hours:
Program volunteers: Monday - Friday 9:30 a.m. – 2:30 p.m.
Office Volunteers: Monday - Friday 9:00 a.m. - 5:00 p.m.
Campus Improvements: Monday - Friday 8:30 a.m. - 4:00 p.m. / Weekends upon request
For More Information:
The procedure to get started as a volunteer with us includes filling out an application and attending an orientation session.  Sessions last about one hour and are held at least twice a month depending on demand. Days and times vary based on need. The orientation includes an overview of what we do here at Villa, a discussion of the volunteer opportunities that are available, a brief tour of our facilities and a review of our volunteer handbook. If you are interested in volunteering, please contact Margaret Morris by email mmorris@VillaEsperanzaServices.org or by phone at (626) 449-2919 Ext. 162.