VILLA ESPERANZA GUILD
The Villa Esperanza Guild was formed in 1968 to increase awareness of the needs of individuals with developmental disabilities.

The Villa Guild spends all year raising money for Villa and we are grateful for all that they do! The Guild holds the annual Day of Thoroughbred Racing fundraiser to raise money for Villa's Hjelte-Phillips Speech and Language Center and Residential and Independent Living programs.

If you have questions about the Villa Esperanza Guild, please contact us.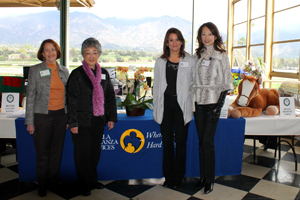 Join us for the 2017 Day of Thoroughbred Racing!
The 19th Annual Day of Thoroughbred Racing will be held Saturday, February 25, 2017.


Click here for more information about the Guild's Race Day.
Meet the 2016-2017 Guild Board
We are grateful to the wonderful Guild Board and Benefit Committee Members who work hard all year round to support Villa!

Diana Gamble
President
Guild Board and Benefit Committee


Linda Matsuno-Parmenter
Parliamentarian & Program Chair
Guild Board and Benefit Committee

Joan Feser

Benefit Chair
Guild Board and Benefit Committee


Irene Albeck
Membership Chair, Hospitality Co-Chair, and Villa Parent
Guild Board and Benefit Committee

Maryann McKinley

Patron Letter Chair
Guild Board and Benefit Committee


Judi Moore
Hospitality Co-Chair and Treasurer
Guild Board and Benefit Committee

Nancy Pierson

Recording Secretary
Guild Board and Benefit Committee

Jo Ann Tassi

Correspondence Secretary
Guild Board and Benefit Committee